(2012 update: Logalot is now part of Scrutinizer)
One question that has been asked repeatedly by customers is, "Can I send email notifications from alarms generated by Scrutinizer?"
And the answer is a resounding, "Yes, you can!".
However, it does require another of our products, which can be installed right over Scrutinizer. This add-on product is Logalot, our Centralized Log Management application. There is a free version of Logalot is available, which may be sufficient for your immediate needs. Installation and configuration takes a mere matter of minutes and is further simplified with the assistance of one of our Presales Support Engineers.

Then, when an alarm is generated in Scrutinizer, a syslog is sent to the syslog server defined in the Scrutinizer Configuration page. Logalot can be that syslog server.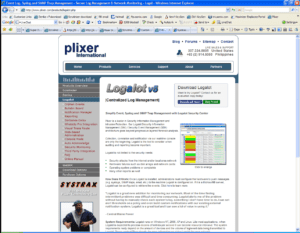 After the syslog is sent to and received by Logalot, Policies and Notifications can be created in Logalot to fully customize when, how, and to whom alerts are sent based on the content of the syslog generated by the Scrutinizer Alarm.
Logalot can also collect eventlogs from Microsoft® servers and receive and manage SNMP Traps. For more information on Logalot, or for assistance with the installation and configuration, contact Plixer Presales Support at 207-324-8805 x3, or click on the Start Chat Now option on the Systrax! home page.