I just got off a support call about Scheduled Reports in Scrutinizer.
If he scheduled a Custom Report through the Scheduled Reports function in Settings, then all was well, he got exactly the report he expected.
But if he went to Status page, then selected an interface, and clicked on the green down arrow on the left and selected Schedule Report, every time the report ran, he got the same report for the same date – December 9 12:00pm to December 10 12:00pm, even though the time frame was set to last 24 hours.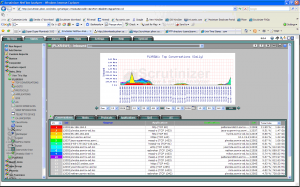 Upon closer investigation, I found that if you changed your date and time parameters using the date/time selectors in the report screen, then scheduled that report, then your dates/times were hard coded in the URL of that report.
The report was scheduled to be sent everyday at 6am.  So everyday at 6am, the report created for Dec 9 to Dec 10 was sent.  However, if the date/time selectors are not touched, and the default time frame of last 24 hours is used, then when the scheduled report is run, it will be for the last 24 hours, and not the same report for the same date every day.
Then just as I finished that call, my neighboring support engineer asked if I could assist him with his support call.  He said the customer created a scheduled report but he keeps getting the report for the same date every time it runs.  Deja vu! Did I have an explanation for him, or what?!