Did you know that Scrutinizer 6.05 has a custom portal that can be configured to show your company logo and also any message you would like to convey?
When web users only have permission to some device groups, they will see the Scrutinizer page in the screenshot below.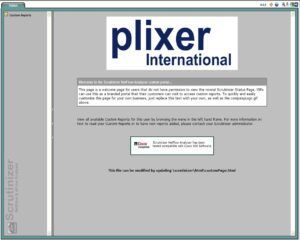 You can easily customize this welcome screen in a few easy steps.
You're going to need an image to replace the Plixer Logo at the top of the screen. Once you have your image, rename the image to companylogo.gif. Within Scrutinizer find the \Scrutinizer\html\image\ folder and backup the existing companylogo.gif.  Replace this gif with your companylogo.gif and now we're off to the next step.
From Within Scrutinizer, find \Scrutinizer\html\custompage.html.  Open it with a text editor.
To edit the text within the customer portal box, find line #48 and change the text to whatever you would like it to say.
To edit the text below the customer portal box, scroll down to line #61 and change this text to whatever you would like it to say.
To edit the bold text at the bottom of the page, scroll down to line #87 and change the text there.
Save the file and you're done.
Now when your users log on, they'll see a more welcoming screen with customized company logos and messages.  Taking the time to work on these types of details are proven to make a positive impact on your users, and management. Customizing the interface also boosts corporate image by increasing confidence in the stability of the network.