One of the many robust features of Scrutinizer is the ability to create customized dashboards. Having this functionality allows IT professionals to build single-pane monitoring solutions that meet their everyday needs. This article (and video) will outline how you can create customized dashboards in Scrutinizer.
Creating Customized Dashboards
Wouldn't it be great if you could have a single view where you can see all of your network traffic in one place and understand which applications, users, and resources are being overly taxed? Wouldn't it be nice if in that same view you had visibility of network threats like malware, DNS leaks, and data exfiltration? With customized dashboards, you can create whatever view you like.
In Scrutinizer, the first tab at the top left of the page is the Dashboard. Within the Dashboard tab is where you will create your dashboard sub-tabs. In these sub-tabs, you will place the gadgets that meet your needs. The "Flow Expert" sub-tab is the default sub-tab in Scrutinizer. It provides details on flow-exporting device interfaces, Top Network Transports by utilization, application utilization, etc.
By selecting the "Add a tab" button next to your current dashboard tabs, you will create a new tab that can be fully customized. After pressing the button, enter a name in the box and press the return key to save the name.

After you've created the new dashboard, you can add gadgets. But before you add gadgets, take note of the down-caret next to the dashboard name. If you select the caret, you will see options to modify the layout, make the dashboard the default when you click the Dashboard tab, copy the dashboard to another user or user group, and delete the tab.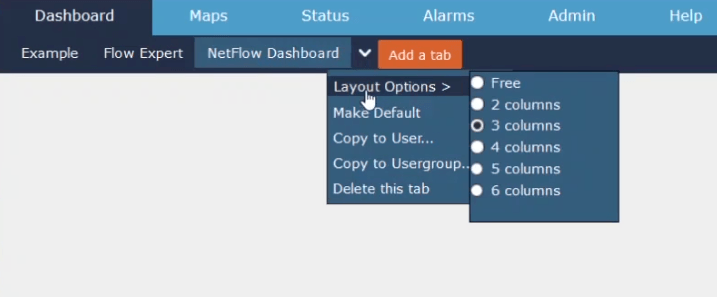 To add a gadget, select the "Add Gadget" button at the top right side of the page. A modal will appear, which will provide you with many options to add a gadget. Gadgets can be added from saved reports, flow analytics, maps, as well as many device-specific built-in options.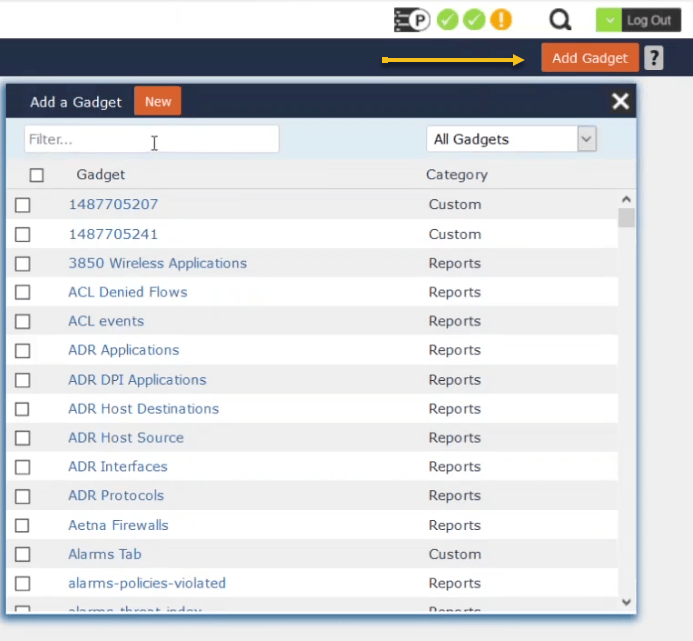 You can also create gadgets from external URLs. To do this, select the "New" button in the "Add a Gadget" modal that opened when you selected the "Add Gadget" button. A few quick notes on creating these gadgets: first, if your Scrutinizer appliance requires that you connect over HTTPS, you must also provide an HTTPS URL in the "Gadget URL" box. Second, if the URL you provide is on a web server that blocks other sites from loading its content using iframes, you will see a white box instead of your content. Check with the third-party application to verify that you can embed the site in an iframe and that there isn't a content security policy in place preventing you from loading the page.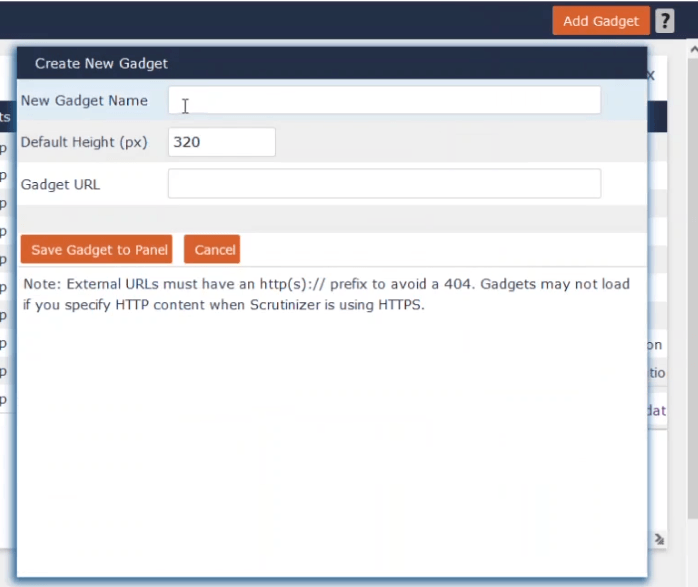 As you create custom reports and maps in Scrutinizer, you will have additional options to add to your dashboards. There is almost no limit to what you can add to create the single-pane view that you need to provide the best incident response and network traffic analytics platform for your organization. To learn how to create custom reports in Scrutinizer, so you can take full advantage of your dashboards, read our "Create Network Monitoring Reports with Scrutinizer" article.