I think we're living in some pretty amazing times. We're seeing big changes in the equipment we use, and we're seeing huge changes in how we use technology as a whole.
Take for example "cloud computing."  Many huge companies have adopted cloud computing configurations and they're doing well.  There are several forms of cloud computing that allow a lot of flexibility; from writing your own applications to be hosted remotely, to only needing your workstation and letting the software as service provider do all the work.  Infoworld has a nice blog explaining the differences between the varying cloud computing configurations.
The facts are though, that contracting global economies are forcing companies to streamline costs. Cloud computing solutions are coming across as inexpensive solutions with reduced commitment to infrastructure support. However, just because they're letting other companies manage key business applications like CRM, doesn't mean they can just forget about monitoring. After all, companies still need to analyze the traffic to ensure return on investments.
Plixer currently has an in house CRM solution that we manage ourselves. We still monitor traffic to our CRM solution to make sure everything is working as it should. If we were to switch to an online CRM solution, we would simply use Scrutinizer to monitor this traffic the same way we would monitor our in house traffic.
We wouldn't have to change our monitoring solution much since we could simply create a "Custom Report" in Scrutinizer v6 or a "Saved Filter" in Scrutinizer v7 to view a port and IP address range combination and see all the traffic for the application in the cloud.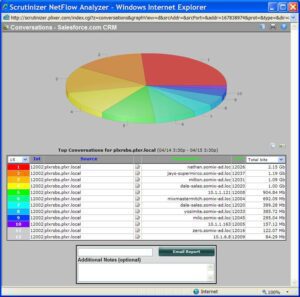 Scrutinizer can also be used to analyze traffic for other cloud computing configurations as well.
Ready or not, cloud computing solutions are here and they're not going away. Scrutinizer is a pretty good tool to use to make sure your cloud computing solution is working the way it needs to.