What does Cisco's Flexible NetFlow (FNF) have to do with LEGO blocks?
Well, if you've been struggling with configuring Flexible NetFlow on your Cisco routers, using LEGO blocks as an analogy for creating the data export record can simplify the process of the FNF configuration, bringing you closer to the end goal of managing your network traffic flow.

In Brad Reese's article "How to setup Cisco's Flexible NetFlow (FNF) with LEGO Blocks", LEGO blocks are used to visually display the assembly of an FNF record.
Imagine you have a stack of LEGO blocks, each one labeled with a field name available to be exported in the FNF record. You select from those blocks the fields that you want included in the FNF record, building the record block by block.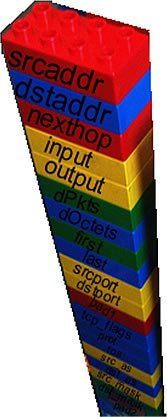 Image from Brad Reese's article on www.networkworld.com.
Once you have your data export record built, then you need to create an Exporter, then a Monitor, apply the Monitor, and then sit back and reap the benefits of Flexible NetFlow packets received by your favorite NetFlow Analyzer application.
Oh, and once you have the FNF packets exported, check out Mike Patterson's blog on naming NetFlow v9 templates.