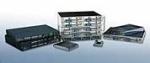 Cisco this week launched its much-anticipated Unified Computer System (UCS) which the networking giant says opens a new category in data center systems that combines computing, network, storage access and virtualization technologies onto a single platform. At the heart of the architecture is BMC, which is providing the network management element to this incredibly complex system.
In an InternetNews.com article, BMC described itself as being the iTunes to Cisco's iPhone, or the UCS device. "We personalize the servers, give it life, personalize what is running on these servers and with a click of a button, they can reprovision their hardware for what they need," Kia Behnia, BMC CTO, told InternetNews.com.
Cisco says its Cisco UCS Manager offers a deep integration with BMC BladeLogic Service Automation and BMC Atrium Configuration Management Database to allow customers to define configured, customized service profiles with provisioned application environments.
One of the key criticisms against UCS is that it appears to be proprietary. For example, Cisco chose to develop its own blade servers and no third-party blade server will work in Cisco's UCS.
By association, BMC could too appear proprietary. BMC's tight integration in UCS has led pundits to speculate on whether it will soon be acquired by Cisco. Also, its close ties with Cisco's blade server could make CA – out of the legendary Big 4 network management vendors – the single choice for customers looking to invest in platform-agnostic management software, predicts Network World's network management expert Denise Dubie.
Michael Patterson, Scrutinizer product manager says: "Plixer believes that hardware vendors such as Cisco, HP, Force10, etc., tend to focus more on the element configuration aspects of network management. Things like configuring access lists, backing up configurations, setting up QoS, etc., tend to involve the proprietary features of the hardware. We focus on what is standards based across all vendors such as displaying SNMP, Cisco NetFlow and sFlow information. We build network maps and provide custom reports across different hardware vendors. So far, Cisco hasn't shown much interest in this area."
Cisco acknowledges that its use of open standard in management could be better. That's the goal of Jesper Andersen, former senior vice president of application development at Oracle and now Cisco's senior vice president of network management. In an interview with InternetNews.com, Andersen said he would be looking at improving re-use and componentization of Cisco's network management applications to be used across its product portfolio.
Related read: Dear Cisco, why are you moving into the server market?