Cisco TrustSec ™ CTS is a new type of Flexible NetFlow export on which we have built several reports.
What is Cisco TrustSec?
Cisco TrustSec is an architecture that tells you who and what is connecting to your network and it controls what they can do and where they can go while they are there. In short, by building identity based access policies it protects critical data throughout the network.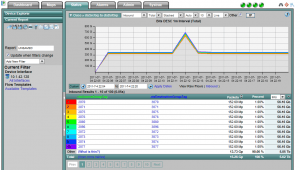 Cisco TrustSec (CTS) : Security Group Access Solution Overview:
Each CTS Group is a secure network establishing a domain of trusted network devices. Every device in the SGA domain is authenticated by its peer device. Communication on the links between devices in the SGA domain is secured with a combination of encryption, message integrity checks, and data-path replay protection mechanisms.
Cisco offers Security Group Access, the ability to authorize users with tags that define their role in the organization. Once user traffic has these tags, any device in the network can enforce based on the tags at egress. It is operationally more scalable than the traditional authorization options.
NetFlow reporting allows admins to monitor the traffic from, and between, the different CTS groups • Available on the Catalyst 3K and 6500 w/ Supervisor 2T.
Cisco TrustSec is a foundational security component of Cisco® Borderless Networks. It enables corporate governance for all users and devices and addresses mandated monitoring, auditing and reporting requirements.
You saw it first from Plixer!