Cisco Performance Routing (PfR) and NetFlow
PfR was well defined by Samuel Yee: "For most medium-to-large networks, you would usually have more than 1 ISP to connect the enterprise network to all the remote sites. Traditional routing (such as OSPF, BGP etc) could route network traffic through a preferred path or load-balance among different paths. It can also automatically change path when a link is dead. For many companies however, this still isn't good enough.

Traditional routing alone can't detect and take actions on links that are 'half-dead' e.g. congested, flappy link etc. To overcome it, Cisco introduces Performance Routing (PfR)."  Samuel Yee – Network Infrastructure Lead
Samuel is trying to point out that routing protocols are not aware of things such as brownouts which can lead to poor network performance. Most companies could benefit from insight on the frequency of these soft errors that impact service levels.  The Cisco Wiki also has a good PfR Overview.
Cisco Wiki on PfR NetFlow
<<<BEGIN>>>
Cisco Performance Routing (PfR) enhances routing in order to select the best path based on user defined policy. The PfR policy can: minimize cost efficiently distribute traffic load and/or select the optimum performing path for applications.
PfR enables intelligent traffic management that can dynamically route around soft errors in the Enterprise WAN or Internet and makes adaptive routing adjustments based on advanced criteria such as response time, packet loss, jitter, mean opinion score (MOS), availability, traffic load, and cost policies.
Cisco PfR augments traditional routing (BGP, EIGRP, OSPF, PBR) with realtime performance metrics in IOS instrumentation (Interfaces, Netflow, IP SLA, …).
<<<END>>>
What does all the above mean to NetFlow?  New reports of course! PfR uses IP SLA data to report on whether or not traffic on a link is in or out of policy. You can expect reports on Round Trip Time, Packet loss, Jitter, MOS (Mean Opinion Score), etc. As you can imagine, these new Cisco Performance Routing NetFlow exports provide details that are very different from traditional NetFlow reporting.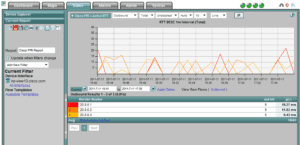 The above is just the beginning and the benefits include the ability to witness the behavior of PfR changes and how they impact network performance. This takes network traffic monitoring with NetFlow to a whole new level.
You can watch traffic in realtime as it goes in and out of policy and historically trend the results. Optimizing video traffic is one of the targeted uses of this new technology. Together with Cisco WAAS, application optimization can become easier to achieve.  Hopefully someday we'll see support for PfR in the Cisco ASA NetFlow exports as well.