If you are running Scrutinizer v7.01, the Cisco ASA interfaces don't show up in the Status tab yet. It was a philosophical decision. Here's why:
The ASA running v8.2.1 exports bidirectional NetFlow!  This is unlike anything else we've seen.  In nearly all NetFlow exports v5, v9, IPFIX etc. flows are exported in one direction (i.e. A -> B and then a separate flow for B -> A).   This is true for ingress or egress NetFlow. For Example: lets say A -> B creates a flow of 200KB.  Then in return:  B -> A causes a 2nd flow of 40KB. Well, the developers of the ASA decided to be unique and add the two flows together and export A -> B 240KB!!!!  The two added to each other is called a bidirectional flow.
Because of this, when we calculate the percent utilization using NetFlow (i.e. not SNMP) by adding the total flows together we overstate InBound/OutBound utilization in the Status tab. We are talking with Cisco about this unconventional export method. We have no definitive news yet.
NOTE: The ASA also doesn't support an Active Timeout causing huge spikes in the graphs and thus making network traffic analysis kind of tricky when traffic that occurred over several minutes shows up in a single minute!
If you are seeing some screwy results with ASA and NSEL, the above is why. Anyway, everyone can blame Mike for not sticking the data in the Status tab!
Here is a pic of our  ASA: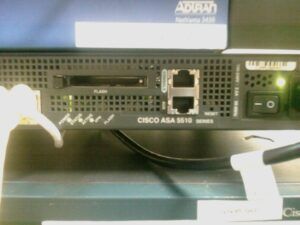 Need help configuring NetFlow export from the ASA?  You can also setup NetFlow exports up using Cisco ASDM. Make sure you have watched the Cisco ASA and NetFlow training video.
May 29th, 2012 Cisco ASA UPDATE:  New Cisco NSEL Reports in Scrutinizer v9.  Check them out.