Cisco has changed its ways! Cisco ASA now supports NetFlow. The new feature in Cisco ASA version 8.2 is called NSEL (NetFlow Security Event Logging) and it allows all ASA models to support NetFlow. Below I have provided the NetFlow configuration of a Cisco ASA.  Check out the latest Cisco NSEL reports.
flow-export destination inside x.x.x.x xxxx(Collector & Port)
access-list flow_export_acl p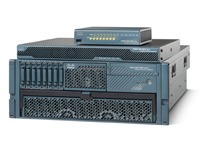 ermit ip host x.x.x.x host x.x.x.x
class-map flow_export_class
match access-list flow_export_acl
policy-map flow_export_policy
class flow_export_class

flow-export event-type flow-creation destination x.x.x.x(Collector IP)
service-policy flow_export_policy global

To see all event type records with NetFlow
event-type all
If you disable logging for flow export events this will increase performance
logging flow-export syslogs disable
The CLI is great but, configuring the ASA to export NetFlow is easier with Cisco ASDM.
May 29th, 2012 UPDATE:  New Cisco NSEL Reports in Scrutinizer v9.  Check them out.