How many of you use the ASDM interface of your Cisco ASA to view traffic patterns in real-time? I thought it was pretty slick when one of our customers showed it to me a few years ago. We have since acquired our own Cisco ASA and have started learning more about the Cisco ASA NetFlow exports. Below is a screen capture showing how it can trend the volume of traffic, volume of connections as well as the CPU and memory usage all in real-time.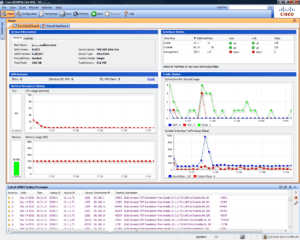 About a year ago we were contacted by SonicWALL to take a look at their NetFlow exports. After some discussion, they decided to support IPFIX for all of their exports. Within a few months, we had a SonicWALL 3500 and started creating SonicWALL IPFIX reports.
A few months ago, they released a web interface that in some ways is similar to the Cisco ASDM interface.
You can find information on configuring the ASA NetFlow Exports and the SonicWALL IPFIX exports on Systrax. Since security and network traffic monitoring are important parts of most businesses, I thought a blog on this was worth a quick read.