Given the enormous debt we have to China, I think it is important that U.S. companies doing business over there should be able to protect their brands (i.e. trademarks). Taxes from companies such as McDonalds, Pizza Hut, Starbucks, etc.,  can go a long way toward paying down our country's debt.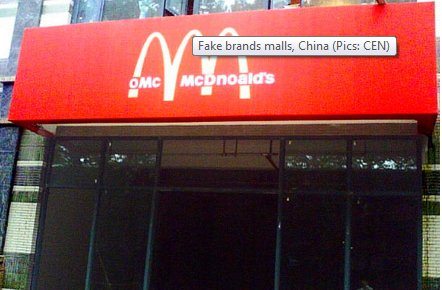 Despite recent trademark infringement settlements, it seems to me that the rewards issued by the China legal system pale in comparison to what it costs to protect the brand. I'm sure the $60,000 reward Starbucks received from Shanghai Xingbake Coffee Shop is a far cry from what the plaintiff had to invest to win the case.
What about the potential tens or hundreds of millions of dollars in lost sales? What about the loss in tax dollars on those sales? We should all think about this before we reach for the imitation Rolex® watch. The consumer can play a big part toward trademark protection.  I have to admit, once or twice I have given in to cheap imitations. Shame on me!
I'm tempted to use the google.com knock off scroogle.org as my default search engine. Do you think Google has a problem with how this web site is using its name? I'm sure some web users like not having everything about them being logged by Google. My point is that sometimes it is hard not to side with the guilty party.
Apple won as well, albeit only $58,000 when it sued New Apple Concept Digital Technology Co. Ltd. It's sad, especially when the primary reason Apple may have won is because of the possibility it will assist China Unicom with another iPhone launch. It is no wonder that companies such as McDonald's are so aggressive toward companies they feel are infringing on their brand.
It is amazing to me that any company could believe that they should be able to release a food product with the letters 'Mc' in front of it and claim it doesn't conflict with McDonalds. Now, if your last name were 'McBride' and you want to release a McBicycle or a McMattress, that might be OK, as long as you stayed away from food. I would still consult an attorney.  How about McNetFlow…?