Cisco IP SLA is useful in so many ways, it's not even funny.  There is no doubt that IP SLA can be useful for long term performance trends and in documenting how well, or how bad your network is behaving.
Cisco IP SLA is a lot more than just a monitor for ping, jitter, and packet loss over TCP and UDP.  There are so many great tools to use, it's amazing!  Using IP SLA, we can retrieve measurement metrics like round-trip time, packet loss, network jitter, and connectivity.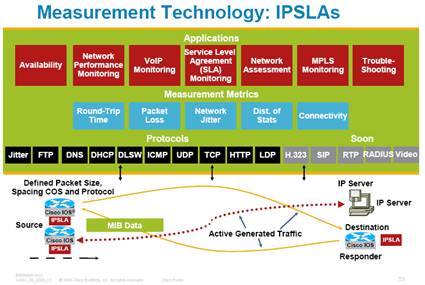 Current monitor types for IP SLA include jitter, FTP, DNS, DHCP, DLSW, ICMP, UDP, TCP, HTTP, and LDP.  Cisco also has a few more types in the pipe.  Soon we'll see H.323, SIP, RTP, RADIUS and video.
I'm sure we can all agree that a key for successful troubleshooting is using the right tools for the job.  The job being to detect the problem as quickly and as efficiently as possible right? Right…  We don't have all day to sit and stare at a screen to catch a blip, and this is where the value of setting up IP SLA thresholds and notifications comes in.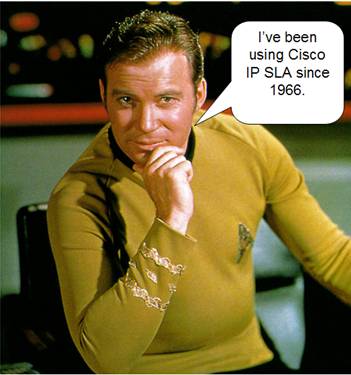 IP SLAs can generate SNMP traps upon the violation of a threshold.  Because these are traps, we're going to need to import MIBs to the log manager so that it can decode the OIDs properly.  You will want to download the CISCO-SYSLOG-MIB, and the CISCO-RTTMON-MIB.
We can generate events for each violation, whether they be consecutive violations, X of Y violations (to generate a trap), or averaged violations.
If the situation deems necessary, we can configure an IP SLA monitor to activate a second IP SLA operation to gather additional data.  IP SLA reaction configurations are done using the "ip sla monitor reaction-configuration" command via the terminal console.( or ip sla reaction-configuration for those of you whose IOS doesn't like the word "monitor").
To tie it all together, using router thresholds and notifications can be a useful tool in troubleshooting a large variety of the "hard to track problems."  Using thresholds and notifications benefit us in troubleshooting problems that happen intermittently, or at odd times.  For detailed instructions on how to set these up, Cisco has a white paper on the exact commands to use.  Check it out: IP SLAs –Proactive Thresholding Monitoring.
Also check out the 4 part blog on Cisco IP SLA Configuration.
Do like the Shat… Use Cisco IP SLA.