What is your company's BYOD policy?  Do you have one?  Does BYOD traffic monitoring exist in your network monitoring routines?  BYOD policies  need to be put in place as this new technology paradigm is costing most companies BIG TIME!
 "Aberdeen Group found that a company with 1,000 mobile devices spends an extra $170,000 per year, on average, when they use a BYOD approach."
How do you improve BYOD Control?  Institute a company policy on BYOD use and enforce it.   There are several items to consider:
Implement

some type of BYOD Security

Enforcement

:  Leverage a technology such as Enterasys mobile IAM which allows the IT staff to track who is using what BYOD device and how many of each type of device is on the network.

Monitoring

NetFlow and IPFIX is one of the best ways to find out how much BYOD traffic your infrastructure is currently supporting.

Educate

employees and remind them to use appropriate behaviors when using BYOD devices.
With the above in place, network administrators have clear visibility into how many BYOD devices are on the network.  How many of each type (e.g. iPhone, Android, Blackberry, etc.) exist and which employee is authenticating them onto the network.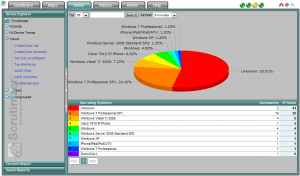 Loaded with the above details, the corresponding traffic generated as well as the websites they are visiting can be reported.   Asking employees not to behave a certain way and then not monitoring BYOD traffic would be like telling the police to post speed limit signs but, not to routinely monitor the roads.