The Best NetFlow Analyzer available in the industry really depends on the needs of your IT team to support your company's critical business applications. What attributes specific to your software that requires specific monitoring? Although the requirements are often the same across applications, generally there are a few specific metrics that if monitored correctly, can bring benefits to the support team.
The leader in NetFlow is the company that listens to your unique needs and can deliver a solution that caters to the demands of your NetFlow traffic analysis needs. The best NetFlow Analyzer may service your unique needs by providing the ability to:
Define applications based on IP addresses in combination with ranges of ports
Group addresses into IP groups or zones of users.
Monitor traffic levels above or even below a definable threshold with built in notification support
Trigger alerts if servers communicate on ports that should be disabled
Provide Cisco AVC reporting which requires support for Flexible NetFlow and unique templates
Report on application latency, TCP retransmits and even URLs
Provide application maps which represent connections between layer two and three devices with both utilization and latency indicators that can represent all or only the traffic specific to an application
Map out end to end connectivity ensuring that the IT team can click on each router in the path to verify elements such as DSCP, packet loss and TTL values.
Provide Cisco ASA NetFlow support ensuring that you have visibility into NAT'ed addresses and end users who VPN in to utilize the application being monitored.
Receive and save NetFlow, IPFIX and even sFlow on the same collector
The best NetFlow Analyzer should enhance your overall enterprise network security efforts by improving threat detection, as well as become the go to solution when another threat detection solution has detected malware. Ideal NetFlow reporting is complemented by powerful filtering which allows the NetFlow traffic analysis team to narrow in on the root cause and determine who else or what else on the network may be infected.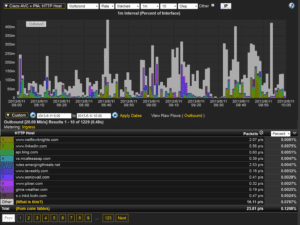 The best NetFlow analyzer for your company will likely service your list of must haves, but you should also check to make sure the vendor has a strong user community like the NetFlow Knights who have posted over 1000 blogs on NetFlow, IPFIX and related technologies.
The best NetFlow analyzer for your company should be comparable to a NetFlow sword which empowers your team to cut problems out of the network. Don't settle for less. Contact Plixer today and start your evaluation of our network traffic analysis. Find out why we are considered by many to be the leader in NetFlow.