One of the many things that we pride ourselves in, is the outstanding support that we give for all of  our products.  In recent months we decided to  provide "One on One" chat support for both our evaluators and our tried and true customers.
"According to a Northstar Research Partners study commissioned by live chat vendor LivePerson, high-value customers who spend more than the average consumer are more likely to use live chat. The study says more people feel highly satisfied after receiving customer service via live chat (46 percent rate it 9 to 10 on a 10-point scale) than other forms of customer service such as a toll-free number (41 percent), e-mail support (31 percent), or online FAQs (24 percent)." – PC World
This type of thinking holds true in the Netflow world. The more we work with the person, the more comfortable they feel about Scrutinizer. It gives us the ability to understand what the person needs and how we can provide the solutions. This type of relationship is priceless.
Getting "One on One" support is easy.  If you don't own the product and have some questions,  go to  www.plixer.com and click on the "Start Chat Now" option.  If you are having a hard time finding the link, just look for the handsome guy in the green hat.  PreSales chat is online from 8:00 am to 10:00 pm eastern.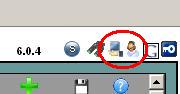 If you own Scrutinizer you already  have the "One on One" support  link embedded in the  interface.  Just click on the small doctor icon  located in the upper right-hand side of the screen.  It's like having your own netflow support department at your finger tips.
So the next time you have a question make sure to check out our live "On on One" support.