Astaro IPFIX or NetFlow support is in the works for ASG 8.3 which is planned for release by the end of this year.  I searched the site and found nothing about sFlow support.  The comment regarding NetFlow was posted by Angelo Comazzetto, Product Manager – Astaro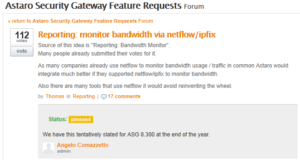 Astaro is a Unified Threat Management (UTM) company and they have a freemium model.  Their hardware is not ASIC based which means their ISO image will work on your own hardware. Because of this they were able to make it free for unlimited amount of time for up to 10 IP addresses.  This includes antivirus and other forms of threat detection.
We are seeing more and more firewall companies like Astaro support IPFIX or NetFlow for not only traditional NetFlow v5 details but, many are supporting some of the features only available through Flexible NetFlow or IPFIX exports. This can include:
syslogs (e.g. Cisco ASA Flexible NetFlow)
packet capture (e.g. Smart Logging and Telemetry Flexible NetFlow)
flow latency details (e.g. SonicWALL IPFIX support),
application awareness (e.g. Cisco NBAR and SonicWALL)
We don't have the details yet on the Astaro NetFlow support however, we hope to be brought into the loop soon.