First it was YouTube, now it's traffic from Facebook and Twitter that network managers are having to grapple with on their corporate nets. Even if you don't participate on those sites yourself, you are bound to see your users accessing those places at some point. So what's your company policy for those sites? Are you allowing them or blocking access because they – especially YouTube and other video broadcast sites – take up too much valuable bandwidth?
If the company policy is to block those sites your company could be losing out on using a valuable tool with which to communicate with your existing and potential customers. And for corporate collaboration, internal microblogging services such as Yammer, which focuses on the business market, is invaluable for getting groups updated without having to remember or type each member's e-mail address.
For external communications, more and more organizations are using networks like Facebook to build community with their customers. If you're a Facebook user, you can friend giants such as Ford Motor Company and Cisco and network with their friends. And for your career management LinkedIn is a great way to find contacts at old, existing and potential new employers.
However, such social networks aren't without their risks. Analysts at Nemertes Research advise companies to "pro-actively develop and enforce policies for employee use of public social networking sites that enables legitimate business use while minimizing risk to intellectual property." Nemertes says more than 54% of respondents to its unified communications and collaboration research said their organizations uses, is planning to use, or is evaluating social networks for internal and external collaboration.
So it sounds like traffic and bandwidth management is going to be key as organizations drive up the use of social networks. And that's where Scrutinizer comes in handy with its ability to identify bandwith-hogging apps and more.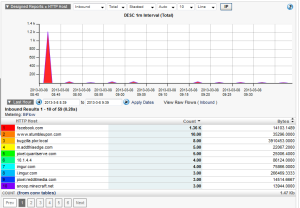 September 2013 Update on Monitoring Facebook Traffic: Cisco AVC is the best way today to monitor Facebook.com traffic.