With the current state of the economy and job losses running rampant, many people are turning to gardening to offset their household grocery bills. These gardens have been aptly dubbed Recession Gardens. We can apply the concept of Recession Gardens to the world of technology and, specifically, to network management.
Think of recession gardening as taking a step back to our roots (pun intended) and using the tools and resources that are available at little or no additional cost. For example, you most likely have Cisco NetFlow technology on your network. You can get even more out of Cisco NetFlow by adding to it a NetFlow Analyzer software application, which are widely available for free. The result is the best and "freshest" network management available, at a very low cost.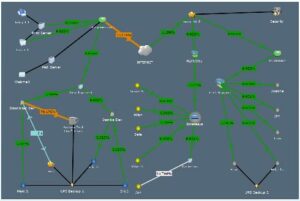 Vendors supporting Cisco NetFlow include Cisco, Enterasys, Juniper, Riverbed, and more. A more inclusive list can be found on our "How to Activate NetFlow, sFlow, IPFIX and NetStream" page.
Armed with your existing Cisco NetFlow-supporting switches and routers and a free NetFlow Analyzer software application, you can "grow" your network management to be very fruitful and cost effective.

As fresh vegetables from your garden make you a healthier person, better network management can increase the health of your business. These tools enable you to weed out those who are abusing or misusing your network resources, helping you to save valuable resources for legitimate business needs. This will save money in the long run, and possibly save jobs, too. Both of which are in short supply this season.
So let's get out our spades, dig a little dirt, configure Cisco NetFlow on our routers, export it to a NetFlow Analyzer application, and we can all watch our network management tools grow and be healthier companies because of it. And who knows, maybe next year they will be Victory Gardens!